Stress urinary incontinence (SUI) is urinary leakage, or an involuntary loss of urine, related to increased abdominal pressure caused by coughing, straining, or in girls, commonly due to laughing. It is more common in women and girls than men and boys. But, it is far more common in adult women than young girls. In women, it is most commonly related to prior childbirth, resulting in weakening of the pelvic floor muscles that help to hold the bladder base (thus controlling the holding of urine). Even in women who have not experienced childbirth, over time the pelvic floor can naturally weaken. In children, however, stress incontinence is usually related to an abnormality called bladder overactivity, also commonly referred to as a nervous or twitchy bladder. With increased abdominal pressure from straining due to cough or constipation or during jumping and commonly strong laughter, involuntary loss of urine can occur. The latter abnormality is so common it has been given the name, "giggle incontinence." Giggle incontinence can be very distressing to children and families however the good news is that it can often improve over time and it frequently responds to low doses of medications to relax the bladder muscle.

Children will usually have the same symptom as adults -- uncontrollable urination, ranging from dribbles to full leaks. For girls, they may experience incontinence when laughing -- similar to stress urinary incontinence (SUI) for some adults -- but this may be caused by a bladder that spasms easily, rather than stress being placed on the bladder. Some doctors refer to this as "giggle incontinence."
Continue Learning about Urinary Incontinence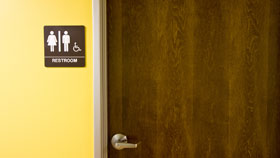 Urinary incontinence (UI) is the accidental release of urine, which can affect both men and women. Symptoms of UI may differ from person to person and the treatment options range from medications to surgery. Learn more from our ex...
perts about UI.
More