Your doctor will first ask you about your symptoms, medical and surgical history, and family history, so make sure you've done your homework and kept a list of all your symptoms and problems. You will be questioned about your degree of discomfort, recent illnesses, and use of medications. Sometimes a simple change in prescription can cure incontinence.
You shouldn't be embarrassed if your doctor asks you the following questions; if they're not asked, be ready to offer the answers:
• Do you have issues with bladder control?
• Do you have trouble holding your urine?
• Do you feel that you empty completely?
• How often do you urinate during the day?
• How often do you wake at night to urinate?
• How much fluid do you drink per day?
• Are you constipated?
• Have you accidentally leaked urine with a physical activity such as
coughing, sneezing, lifting, or exercising?
• How large an amount of urine do you lose?
• Have you felt a sudden urge to urinate that did not allow you to get
to the toilet fast enough?
• Do you have pain or burning when you urinate?
• Does your bladder feel empty after you urinate?
• Do you feel any dropping of your bladder or uterus, and do you feel
any bulging from your vagina?
• Do you feel pulling or pressure in your pelvis, especially when you've
remained standing for a long period of time?
• Do you wear protective pads even though you don't want to?
• Have your sexual habits changed?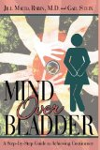 Continue Learning about Urinary Incontinence