Leakage of urine when sneezing, laughing and coughing means that the sphincter muscles could be weakening. Watch Rishi Modh, MD, of Northside Hospital, explain more.
Leakage can occur when something puts pressure on the bladder. In this video, urologist Michael Safir, MD, of West Hills Hospital, explains how this can happen when you're sneezing, laughing or even exercising.
If you pee a little when you sneeze, laugh and cough, this is called stress incontinence. Stress incontinence occurs when there is unexpected leakage of urine caused by pressure or sudden muscle contractions on the bladder. This often occurs during exercise, heavy lifting, coughing, sneezing or laughing. Stress incontinence is the most common bladder control problem in young and middle-aged women. The condition may be due to an inherent weakness of the pelvic floor muscles or an effect from the changes that occur in pelvic support after childbirth. In menopausal women, stress incontinence can begin to occur because a drop in estrogen can cause weakening of the pelvic floor.
"Leaking" urine when you sneeze, laugh or cough could be a condition called stress incontinence. In this video, Dr. Oz Show guest Mara Rabin gives tips on ways to avoid leakage.
Continue Learning about Urinary Incontinence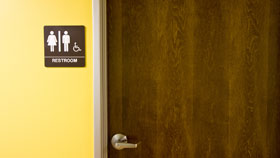 Urinary incontinence (UI) is the accidental release of urine, which can affect both men and women. Symptoms of UI may differ from person to person and the treatment options range from medications to surgery. Learn more from our ex...
perts about UI.
More