A tremendous variety of pads and other absorbent products are available to suit your sex and the type or severity of your incontinence. In general, products designated for "light" protection will absorb up to one cup; "moderate," up to two cups; and "heavy," up to three cups.

When choosing a pad, look for products specifically for incontinence that incorporate super-absorbent layers; these pull fluid away from the skin into the core of the pad, where it forms a gel that can't leak out. Look for such brand names as Tena Serenity, Poise, and Depend. Check with your insurer about coverage for products to manage incontinence.
A pad test may be used to measure leakage and may be performed in the specialist's office or at home. Pad testing can be done over a period of time as short as twenty minutes or up to one hour.
A sanitary napkin is weighed and then worn for twenty to sixty minutes, during which time the individual is asked to perform certain activities which may include:
• Walking briskly for three minutes
• Sitting and then standing ten to twenty times
• Walking up and down stairs for one to two minutes
• Picking up objects from the floor five to ten times
• Coughing twelve times (at various strengths; may be repeated)
• Running in place for one minute (may be repeated)
The pad is then removed and weighed again to calculate the amount of urine voided. A small loss may indicate stress incontinence (for example), while a greater loss may indicate unstable bladder contractions usually associated with the urge symptoms.
Coloring agents may also be used to determine that the fluid lost is urine. This is called a dye test and is performed after a non-toxic dye is placed in the bladder. Any stain of dye on the pad following the test indicates that urine was lost during the test.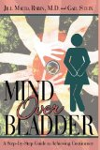 Continue Learning about Urinary Incontinence