The loss of urine during sexual intercourse is not normal. It could represent a symptom of stress urinary incontinence (SUI). If the pelvic floor muscles have become weak (for example due to childbirths, aging), then the intra-abdominal pressure generated during intercourse will be unequally distributed to the bladder and urethra thus causing a net transfer of urine out of the urinary bladder.
The loss of urine during intercourse can lead to embarrassment and even female sexual dysfunction. Many women experience minor leakage of urine from time to time. Emptying the bladder or cutting back on fluids prior to intercourse can be helpful. If loss of urine during intercourse is a frequent occurrence, contact your doctor or healthcare provider for a full discussion of possible treatment options for SUI.
Continue Learning about Urinary Incontinence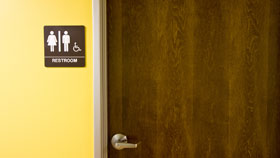 Urinary incontinence (UI) is the accidental release of urine, which can affect both men and women. Symptoms of UI may differ from person to person and the treatment options range from medications to surgery. Learn more from our ex...
perts about UI.
More