Stress and urge incontinence are very different. With urge incontinence, you have unpredictable leakage. The bladder just squeezes, and you have an accident. A lot of patients who have urge incontinence will also have frequency (urinating or voiding more than eight times or more in 24 hours). Stress incontinence, on the other hand, is usually with activity such as running or jumping. Or you have a good laugh and all of a sudden, you have a little bit of leakage, spurts of urine.

Continue Learning about Urinary Incontinence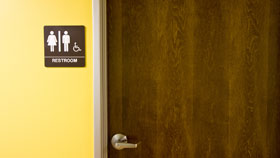 Urinary incontinence (UI) is the accidental release of urine, which can affect both men and women. Symptoms of UI may differ from person to person and the treatment options range from medications to surgery. Learn more from our ex...
perts about UI.
More