If you are a man or woman with overflow incontinence because your bladder muscles are weak or your bladder does not completely empty for other reasons, such as following surgery for incontinence, you may be able to manage the situation with intermittent self-catheterization. For this approach, you urinate normally every few hours, trying to empty your bladder as completely as possible. Next you insert a small tube (the catheter) through the urethra into the bladder to drain any remaining urine into the toilet.

Although it may sound difficult, this technique can relieve symptoms for people who need temporary or permanent help urinating. The procedure is usually tolerated well, especially as one becomes accustomed to self catheterizing. You do not need to keep the catheter sterile or use gloves. Urinary tract infections can be a problem, but this technique poses a smaller risk than a permanent catheter would.
Continue Learning about Urinary Incontinence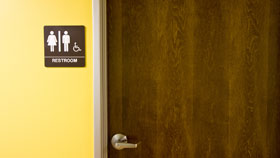 Urinary incontinence (UI) is the accidental release of urine, which can affect both men and women. Symptoms of UI may differ from person to person and the treatment options range from medications to surgery. Learn more from our ex...
perts about UI.
More