You can avoid skin irritation due to urinary incontinence with measures to properly cleanse, and protect the skin. In general, after each episode of incontinence, cleanse the area with tepid water or a gentle, nonalkaline soap or cleanser. For women, sometimes it is helpful to gently blow-dry the skin to make sure the skin is completely dry. Then protect the skin with a lotion or ointment used to protect baby skin, such as Desitin, or a specifically ointment developed for incontinence. Avoid products with alcohol or propylene glycol, which can irritate the skin or cause an allergic reaction.
Continue Learning about Urinary Incontinence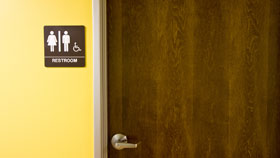 Urinary incontinence (UI) is the accidental release of urine, which can affect both men and women. Symptoms of UI may differ from person to person and the treatment options range from medications to surgery. Learn more from our ex...
perts about UI.
More