For men, an alternative to pads or collection devices is a clamp placed around the base of the penis and tightened just enough to prevent urine from leaking. The devices are designed as an inflatable ring or a foam-lined metal or plastic frame. Every couple of hours, you loosen the clamp to urinate and keep pressure from building up. Whether a clamp works will depend on whether you can adjust it to prevent leakage and still remain comfortable.
If you have damaged skin on the penis, are physically unable to loosen the clamp yourself, or have nerve damage that might make it difficult for you to judge the clamp's tightness, you could damage the penis and should choose another method. Penile clamps are available without a prescription (brand names include Bard Cunningham), but may be covered by Medicare or your private insurer if ordered through your physician.
Continue Learning about Urinary Incontinence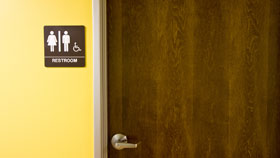 Urinary incontinence (UI) is the accidental release of urine, which can affect both men and women. Symptoms of UI may differ from person to person and the treatment options range from medications to surgery. Learn more from our ex...
perts about UI.
More