When there is constant leakage, devices that collect rather than absorb the urine can help to protect the skin. The National Association for Continence advises you to seek professional guidance in selecting the type and size that would work best for you. Otherwise, you may conclude that a device is unsatisfactory when the problem may, in fact, lie in its fit or style.

For men:
Men can choose from a variety of external devices. A condom catheter is a soft sheath made of silicone or latex that fits over the penis like a regular condom, except that it attaches to a drain tube leading to a urine collection bag, usually worn on the leg. Some condom catheters are self-adhesive; others must be strapped on, held in place with a jock strap, or taped on with adhesive strips. Some are reusable, and others, disposable.

The major concern in using a condom catheter is protecting your skin. Usually, you should clean and dry your penis and apply a moisture-protective cream before attaching a new condom catheter. Some men develop a sensitivity to latex and should choose a silicone catheter.

For women:
A few urine collection pouches (such as Hollister) are designed to be held around the opening to the urethra with adhesive or suction. The end of the pouch is connected to a larger drainage bag so you can move around freely.
Continue Learning about Urinary Incontinence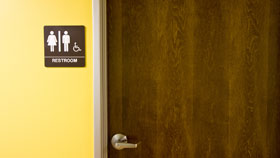 Urinary incontinence (UI) is the accidental release of urine, which can affect both men and women. Symptoms of UI may differ from person to person and the treatment options range from medications to surgery. Learn more from our ex...
perts about UI.
More