It is important to note that radiation is not commonly used to treat bladder cancer in the USA. This is reserved for "bladder preserving" protocols and for those who are medically unfit for surgery.
It is possible for radiation of the bladder for cancer to cause urinary incontinence by affecting the internal and external urinary sphincters and also cause fibrosis and shrinkage of bladder capacity. Also, the bladder may become "overactive" and thus leading to uninhibited contractions, leading to leakage.
People with cancer in the general region of the bladder may end up with inflammation in the bladder, which can cause frequency and pain when they urinate. This is different from incontinence, which is the inability to prevent urine leakage.
Continue Learning about Urinary Incontinence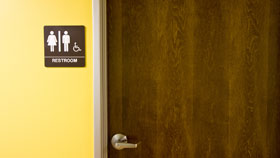 Urinary incontinence (UI) is the accidental release of urine, which can affect both men and women. Symptoms of UI may differ from person to person and the treatment options range from medications to surgery. Learn more from our ex...
perts about UI.
More