Functional urinary incontinence can be caused by a variety of mental or physical impediments. It is generally caused by an inability to get to the toilet on time, but sometimes may be caused by a refusal to go. A stroke may limit a person's mobility and make it difficult to get to the toilet on time. In rare cases, it's possible for a person to become very depressed and choose not to use the bathroom.
Continue Learning about Urinary Incontinence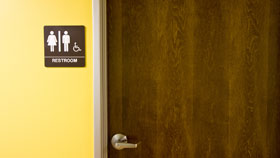 Urinary incontinence (UI) is the accidental release of urine, which can affect both men and women. Symptoms of UI may differ from person to person and the treatment options range from medications to surgery. Learn more from our ex...
perts about UI.
More