Urinary incontinence (the involuntary leakage of urine) is a common and embarrassing side effect of prostate disease and its treatment. For men who have had a prostatectomy (surgery for prostate cancer), urine leakage is a frequent side effect but often subsides gradually over the first two years following surgery. Although irritation, burning, and painful urination are the most common urinary side effects of radiation therapy, incontinence -- though uncommon with a highly skilled radiation oncologist -- can also occur.

If you experience urinary problems following prostate cancer treatment, your doctor may recommend a urodynamic evaluation -- a diagnostic session to help determine the nerve and muscle function of your bladder and urethral sphincter (the ring-like muscle that controls urine flow). This will help pinpoint the exact nature of the problem so that your therapy can be specifically designed to address it.
Continue Learning about Urinary Incontinence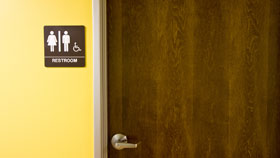 Urinary incontinence (UI) is the accidental release of urine, which can affect both men and women. Symptoms of UI may differ from person to person and the treatment options range from medications to surgery. Learn more from our ex...
perts about UI.
More