The best way to prevent urinary incontinence is to do Kegel exercises -- which strengthen the pelvic floor muscles -- since the most common cause of urinary incontinence is weak pelvic floor muscles. These exercises are easy to learn, and you can find instructions online.
Functional urinary incontinence refers to incontinence due to the inability to reach a bathroom in time, not due to any problem with the bladder or bowel. If the cause is a loss of mobility or physical disability (Parkinson's disease, arthritis, poor eyesight) a commode in one's bedroom may be all that is needed. When out and about knowing where the restrooms are in advance helps as well. Those with decreased memory or confusion may be helped by prompted toileting (assistance going to and from the restroom). Medications may affect alertness and agility as well, so be sure to review medications with your physician. Remember not to discontinue any medication without review with your doctor!
Unfortunately, you may not be able to prevent all cases of functional urinary incontinence. However, it may be possible to limit your occurrences or lower your risk. Staying at a healthy weight, exercising, eating fiber, and avoiding smoking can all help prevent urinary incontinence. Kegel exercises, which are exercises of the pelvic floor muscles, can help strengthen the muscles and reduce accidents. Lastly, if certain foods or drinks such as coffee or alcohol exacerbate your urinary incontinence, avoid them.
Continue Learning about Urinary Incontinence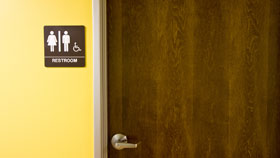 Urinary incontinence (UI) is the accidental release of urine, which can affect both men and women. Symptoms of UI may differ from person to person and the treatment options range from medications to surgery. Learn more from our ex...
perts about UI.
More