When you sneeze, cough, or lift the overweight suitcase stuffed with tchotchkes from your latest vacation, the pressure inside your abdomen can increase, forcing urine out. It comes about because the muscles in your pelvic floor that normally support your bladder like a perfectly designed crutch have weakened to the point where they can't contract well or fast enough to hold back the urine. Sometimes just a drop will leak out and sometimes it will be enough to wish you were at home.
When pelvic muscles are weakened after menopause, any pressure from sneezing, coughing, or lifting can cause bladder control issues. This type of incontinence is called stress incontinence because the stress of the action causes urine leakage. The urine actually pushes through the weakened pelvic muscles and escapes during one of these episodes.
Continue Learning about Urinary Incontinence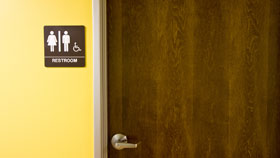 Urinary incontinence (UI) is the accidental release of urine, which can affect both men and women. Symptoms of UI may differ from person to person and the treatment options range from medications to surgery. Learn more from our ex...
perts about UI.
More