Urinary incontinence is first treated with exercise and fluid intake. These behavior changes can improve up to 50 percent of cases of urinary incontinence.
Treatment for urinary incontinence will vary based on the type of incontinence you have. For urge incontinence, bladder training may be prescribed as well as medications that inhibit bladder function. Drugs or surgery can treat an enlarged prostate in men, and mild stress incontinence can be self-treated with pelvic floor exercises.
Loss of control of urine is usually very distressing to people. It has many negative effects, including social isolation, embarrassment, increased care burden, skin breakdown and cost. Some people erroneously attribute it to normal aging and don't seek help. But any amount of leakage that is distressing to people should be cause for seeking help, as all types of incontinence can be helped, if not cured.
A good primary care physician, internal medicine, family medicine or geriatric medicine specialist can diagnose the majority of causes of incontinence. On occasion, referral to a specialist may be indicated for additional diagnostic tests and therapeutic procedures.
With proper treatment and a sympathetic and understanding doctor, incontinence may be avoided and treated. Below are just some of the options available to you today. They range from totally noninvasive therapies to surgery. Your doctor can tell you what will work best for you.
Modifying your behavior
Restricting your diet
Retraining your bladder
Doing Kegels (pelvic muscle exercises)
Using biofeedback therapy
Taking medication
Checking your medications with your doctor, because over three hundred medications may cause incontinence
Undergoing surgery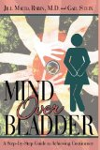 There are three major types of urinary incontinence. Stress urinary incontinence is the most common and it is treated with Kegel exercises or a surgical procedure to stabilize the urethra. The most common surgery for SUI is a sling procedure in which a biologic or synthetic graft is loosely placed around the urethra so as to cause a kink in the urethra that will diminish urinary leakage by decreasing urethral hypermobility.
Urgency incontinence is treated with behavioral modifications (decreased caffeine, more frequent voiding, avoidance of certain food or drinks) medications, or surgery. The medications work by relaxing the bladder muscle and decreasing spasms. Interstim is a surgery that places an electrode near the S3 nerve in the sacrum and this will down regulate the nerves that innervate the bladder muscle and help the bladder to relax.
Overflow incontinence is best treated with timed voiding but occasionally it can be helped with medication or surgery. The medications help to open the urethra and Interstim can also help with this problem.
There are many ways to treat urinary incontinence (UI). Some are:
pelvic floor exercises, called kegels
bladder training
biofeedback training to better understand your body and possibly make changes to diet
medications
injections
surgery
The most important thing to remember about urinary incontinence is that it's not something to just deal with. There are many treatment options available.
This content originally appeared on http://blog.mountainstar.com/.
There are many options available for treating urinary incontinence, whether it's with surgery, medication, pelvic-floor physical therapy or an electrical stimulation biofeedback device. And there is no need to wait until you are older to do so. If your primary care doctor or gynecologist does not offer options, consider seeing a urogynecologist.
This content originally appeared on doctoroz.com.
Treatment choices for urinary incontinence range from lifestyle changes to surgery. Your treatment will depend on the underlying problems causing the incontinence. But keep in mind that no treatment works perfectly, and you may have to try more than one approach before you find the one that best suits your needs. Often a combination of treatment modalities is the best solution. Treatments may be different for men and women. Because there are a variety of options, your preferences are important in developing a plan.
For example, a woman may be a candidate for either injections of bulking agents or a sling procedure. If she is in her 40s and likes to do kickboxing for exercise, she may not be dry enough with the injections and may choose sling surgery. A woman with similar exam and test results but a less active lifestyle might get along fine with injections.
It's also important to know that less invasive treatments, such as biofeedback or pelvic floor exercises, are a good first step and can be helpful, but may not be as effective as some surgical procedures. You and your physician need to decide which is most appropriate for you. Check with your health plan to find out which therapies are covered. Treatment for urinary incontinence is an area of active research, and new approaches are under development.
Treatment for urinary incontinence depends on the type of incontinence and cause of the problem. Treatment options range from bladder-muscle exercises, bladder training, and scheduled toileting to medications and surgery.
Left untreated, urinary incontinence puts one at increased risk for rashes, urinary-tract infections, sores and skin infections. Anyone experiencing symptoms should see a doctor immediately to be properly evaluated and treated.
Continue Learning about Urinary Incontinence Treatment