Ulcerative colitis (UC) is a condition that affects the digestive system, also known as the gut. UC causes damage to the large bowel. The immune system usually protects the body from infections by fighting germs and other harmful invaders. In ulcerative colitis, the immune system mistakes the gut for germs and attacks it. This causes inflammation in the gut, which makes it sore, red and swollen. Small sores called ulcers can develop on the walls that line the large bowel. Sometimes these ulcers bleed or make pus.
Ulcerative colitis is a disease of the colon that can lead to the development of multiple ulcers. Ernest Rehnke, MD, in bariatrics and general surgery at Palms of Pasadena Hospital explains the disease and treatments in this video.
Ulcerative colitis is a chronic, inflammatory disorder of the colon and rectum. There is no cure for ulcerative colitis. It's characterized by periods of relapses (when the disease flares up with increased symptoms) and remission, when you feel well. However, being in remission doesn't mean you don't have ulcerative colitis anymore. You will still require medications and monitoring to keep you in that state of feeling well.
Ulcerative colitis causes inflammation of the innermost lining of the large intestine and/or rectum. Symptoms include bloody diarrhea that doesn't stop, abdominal cramps and rectal bleeding (bleeding from the very end of the GI tract, right before the anus). Other symptoms include anemia (a loss of red blood cells resulting in extreme tiredness or fatigue), nausea, vomiting, fever, weight loss (because the intestines may not be able to absorb enough nutrients from food), joint pain and skin problems.
Continue Learning about Ulcerative Colitis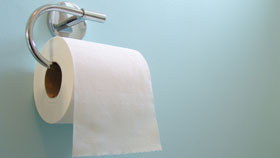 Ulcerative Colitis is a type of Inflammatory Bowel Disease (IBD) that affects the lining of the lower intestine and the rectum. Learn more about ulcerative colitis from our experts.