Jigneshkumar Patel, MD from Medical Center of Trinity offers advice on what not to eat if you have ulcerative colitis.
What to eat will depend if you are in an acute flare-up of ulcerative colitis or between flare-ups.
Between flare-ups, eat a well-balanced diet to replace lost nutrients, promote healing, and improve your tolerance for medications. Include omega-3 fatty acids, calcium, protein, and fiber (especially soluble fiber).
Sources of soluble fiber include oats, barley, skinned apples, oranges, potatoes, and dried beans.
Omega-3s can be found in flaxseed (ground or oil) and seafood (especially salmon, Atlantic mackerel, herring and sardines.)
Good sources of calcium include milk, yogurt, cheese and fortified orange juice.
The best sources of protein are low-saturated fat animal products, such as seafood and chicken and other poultry (without the skin). Beans and soy are also excellent sources.
To keep your energy up, try a snack that balances protein and carbohydrates. This might include a low-fat cheese stick and some fruit, peanut butter and crackers, or hummus and whole-grain pita bread.
During your flare-ups you will be extra sensitive to the symptoms of your disorder. What foods you can tolerate will vary. However, certain items commonly cause problems.
The foods you may want to avoid include:
Spicy foods
Alcohol
Coffee
Chocolate
Raw and certain other vegetables (often corn, cabbage, beets, tomatoes, peppers and cucumbers)
Stringy and/or fatty meats
Nuts and seeds
Diet drinks
Raw, unpeeled fruit
Shellfish
Dairy foods
In addition to avoiding the foods that bother you, you may be able to minimize symptoms and maximize comfort by eating small, frequent meals.
Foods that are more commonly tolerated during flare-ups are:
Refined grains
Well-cooked eggs
Tender meats
Thoroughly cooked vegetables
Fruits with seeds and skin removed
Soups with clear broths
And remember, it is also important to drink plenty of fluids to stay hydrated.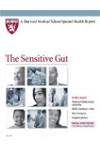 More About this Book
Harvard Medical School The Sensitive Gut
DO YOU EXPERIENCE FREQUENT STOMACHACHES OR EXCESSIVE GAS AFTER EATING? DOES EATING A SIMPLE MEAL LEAVE YOU WITH A FEELING OF HEARTBURN? DO CONSTIPATION AND DIARRHEA PLAGUE YOUR LIFE? If you answered...
Continue Learning about Ulcerative Colitis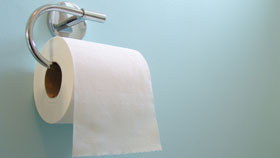 Ulcerative Colitis is a type of Inflammatory Bowel Disease (IBD) that affects the lining of the lower intestine and the rectum. Learn more about ulcerative colitis from our experts.