In addition to asking you about your symptoms, your doctor will probably perform a type of bowel examination called a sigmoidoscopy to diagnose ulcerative proctitis. During the sigmoidoscopy, your doctor will insert a sigmoidoscope, which is a thin, flexible tube with a very small light and camera on one end, through the anus and into the rectum. This allows your doctor to view the lining of the rectum to check for inflammation and sores. Sometimes a biopsy is taken during the sigmoidoscopy to rule out other illnesses. During a biopsy, a small sample of tissue is collected and sent to a lab to be examined under a microscope by an expert. In addition to the exam, your doctor might ask you for a stool sample as well.
Continue Learning about Ulcerative Colitis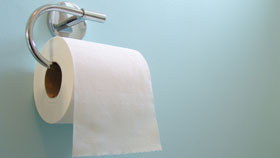 Ulcerative Colitis is a type of Inflammatory Bowel Disease (IBD) that affects the lining of the lower intestine and the rectum. Learn more about ulcerative colitis from our experts.