One of the most noticeable symptoms of ulcerative proctitis is often bleeding from the rectum. The blood may be discharged with a person's stool or with mucus, or it may come out on its own. Some people with ulcerative proctitis report that they have a frequent, strong urge to have a bowel movement but are unable to do so. This is known as tenesmus. Other symptoms can include pain in the rectum, constipation, and diarrhea, but they are not always experienced by everyone with ulcerative proctitis.
Continue Learning about Ulcerative Colitis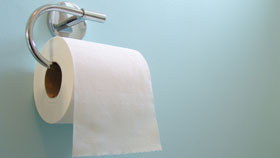 Ulcerative Colitis is a type of Inflammatory Bowel Disease (IBD) that affects the lining of the lower intestine and the rectum. Learn more about ulcerative colitis from our experts.