If you are caring for someone with ulcerative proctitis, you may need to administer medication to the person at least once a day. Ulcerative proctitis is usually treated with prescription anti-inflammatory medications that are inserted through the anus into the rectum, though sometimes they are taken orally as well. When taken rectally, the medication may be in the form of a liquid, a suppository, or a foam.
If you are responsible for preparing the person's food as well, you might want to talk to the person's doctor about potential dietary changes. It is thought that some foods may help improve overall colon health, thus improving the symptoms of ulcerative proctitis. For example, adding fish oil to one's diet might help decrease the inflammation associated with proctitis. Some people respond well to increasing the amount of fiber in their diet, but others may find that it makes their symptoms worse. Foods that contain prebiotics might help improve intestinal health in general; these include garlic, artichokes, bananas, and some other fruits, vegetables, and grains.
Continue Learning about Ulcerative Colitis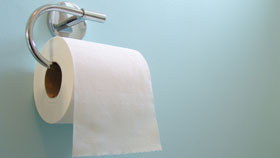 Ulcerative Colitis is a type of Inflammatory Bowel Disease (IBD) that affects the lining of the lower intestine and the rectum. Learn more about ulcerative colitis from our experts.