Fecal Transplant Trial Falls Short, But There's Hope
Even when experiments fail, the outcome can have a silver lining: There's always the chance you learn something new. Though researchers had to throw in the towel on one important study of fecal microbiota transplant (FMT) -- yes, that's a transplant of poop from one person to another -- as a treatment for ulcerative colitis (UC), they're still hopeful it may yet prove to be helpful for some people.
Blame it on bacteria
Scientists think that ulcerative colitis results from a combination of factors: A person who has a genetic predisposition may be exposed to a trigger -- a virus or bacterium, maybe -- setting off an ongoing immune attack on the colon. People with UC and Crohn's do appear to have a different mix of bacteria (called a microbiome) in the gut than those without bowel disease. But researchers are still beginning to learn what makes up a "healthy" mix of bacteria, and how to promote it. So far, probiotics, prebiotics ("food" for bacteria) and antibiotics have all been disappointing. With FMT, the idea is to instill that healthy mix directly into the colon and hope it takes hold.
Trial and error with a positive twist
Some case studies have hinted that FMT could be an effective treatment for UC, so doctors at McMaster University in Canada designed a randomized, placebo-controlled trial -- that's the best kind of study -- to put it to the test. Half the participants received an enema of fecal microbiota (bacteria) from a secret donor once each week for six weeks, while others got a placebo enema containing only water. Unfortunately, only 7 of the first 31 treated with FMT showed improvement in their colitis, compared to 2 of 30 people in the placebo group, so the researchers halted the study early.
While the numbers might not have matched their expectations, the team noted that the few people helped by FMT showed great improvement. Of note, one man who had battled severe UC for 20 years and who no longer responded to medications was given FMT after showing no signs of improvement in the placebo group. After 20 weeks of FMT, he was essentially disease-free. Cases like that suggest that more studies are worthwhile to find out why some people respond and others don't, the researchers say.
Stay tuned
Those studies are ongoing. For now, the Crohn's and Colitis Foundation of America says that FMT should be considered experimental, and should only be tried as part of a properly designed and supervised research trial. Hopefully, FMT will give sufferers a better way to manage -- and maybe even beat -- ulcerative colitis some day.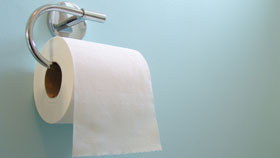 Ulcerative Colitis is a type of Inflammatory Bowel Disease (IBD) that affects the lining of the lower intestine and the rectum. Learn more about ulcerative colitis from our experts.