You are in luck! Our bodies are brilliant machines and your body will let you know when you are at risk of overtraining. Some examples include:
Have you been feeling fatigued? If yes, give yourself a little rest. Your body might be telling you to cool it!
Has soreness been constant? If your body seems to always be sore then your muscle are unable to recover, give them time and a day or two of rest!
How have you been eating? Your body needs the appropriate fuel to keep going!
You're at risk of overtraining when you don't get enough rest, when you try to do too much, too intensely, too soon. Other factors that contribute to the risk of overtraining include a nutritionally inadequate diet -- including not taking in enough fluids -- and unresolved biomechanical problems, old injuries, or inappropriate equipment such as poorly fitting or excessively worn shoes.
And, in particular, you're at risk of overtraining when you don't pay close attention to what your body is "telling" you. If you're feeling tired even at the start of a workout, that may be because you need more rest.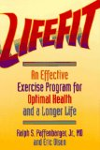 Continue Learning about Types Of Exercise Programs


From walking to engaging in team sports, exercise comes in many forms. Aerobics, stretching, weightlifting and endurance training are some of the types of exercise that produce health benefits and enjoyment. With each type of exer...
cise, proper technique and posture is critical in preventing injuries while achieving maximum health results.
More