An overhead press is an exercise in which a dumbbell or barbell is pressed until the arms are extended directly over head. To perform an overhead press either stand or sit with your spine and head in neutral alignment and head facing forward with the core engaged. Bring the barbell or dumbbell with arms bent up to shoulder height, and then using your deltoids and triceps press upwards while exhaling until your arms are extended directly over the head. Once extended over head inhale as you slowly descend back to shoulder height.

The overhead press can be performed either standing or seated with a barbell or dumbbells. The exercise hits all three heads of the deltoid (anterior, medial, and posterior) and the triceps as well as a host of stabilizer muscles in the chest and upper back. The standing version has the added benefit of working your core and lower back while maintaining balance.

The standing overhead barbell press (or Military Press) is a great primary upper body pressing exercise that can be rotated with the Bench Press in your routine. While this exercise can be performed behind the neck, it is much safter on your shoulder girdle bringing the bar down to the front with the bar resting on your clavicle or upper chest.

You may have to lean your head back slightly until the bar passes your head to avoid hitting it. Once you do, move under the bar and press it to full extension. The bar should be moving straight up and not forward. Keep your abs, lower back, and glutes tight and avoid leaning back.
An overhead press strengthens muscles in your arms and shoulders (tones "batwings" on the upper arms, for example) and improves flexibility. You will need dumbbells. Start with weights as light as 1 to 3 pounds and work your way up gradually to 10 pounds, or even 12 or 15 pounds, as you get stronger.
Stand straight with a dumbbell in each hand, feet shoulder-width apart and hands by your side. Bring the dumbbells up until they touch the front of your shoulders, your palms facing forward. (Note: this can also be done while sitting in a chair).
Push the dumbbells straight up to a count of three until your arms are fully extended over your head. Pause for a breath and lower to the starting position at shoulder height as you count to three. (Do not arch your back. If you find yourself arching your back, the weights may be too heavy).
Repeat 12 times. Rest a minute or two and then repeat 12 more times.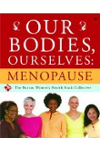 More About this Book
Our Bodies, Ourselves: Menopause
FROM THE EDITORS OF THE CLASSIC "BIBLE OF WOMEN'S HEALTH," A TRUSTWORTHY, UP-TO-DATE GUIDE TO HELP EVERY WOMAN NAVIGATE THE MENOPAUSE TRANSITION For decades, millions of women have relied on Our...
Continue Learning about Types Of Exercise Programs


From walking to engaging in team sports, exercise comes in many forms. Aerobics, stretching, weightlifting and endurance training are some of the types of exercise that produce health benefits and enjoyment. With each type of exer...
cise, proper technique and posture is critical in preventing injuries while achieving maximum health results.
More