The following hip flexor stretch will give you a general approach to the lower body. Remember, as always, hold each stretch for 30 seconds, repeat four times, and never bounce.

1. Start by standing with feet together.

2. Step forward onto the right leg while keeping your knee aligned above your ankle and your hips forward.

3. Raise both of your hands above your head as you lean forward. You should feel a gentle stretch in the front of your back leg.

4. Then, lean toward the right leg and raise your left arm over your head. The stretch will move to include your left side as well as the front of your back leg.

5. Finally, raise your left arm above your body and twist it to behind your body. This opens up the left side of your body.

6. Hold each position for 30 seconds, and then switch legs and repeat all three positions.

7. Repeat the rotations four times.



Holding your legs in a lunge like this for 90 seconds (30 seconds in each position) may initially be too much for you. That is fine. Work up to it.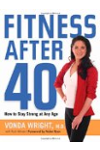 More About this Book
Fitness After 40: How to Stay Strong at Any Age
It's one of the undeniable facts of life. After we reach a certain age, our bodies change. No matter how fit we may have been at 20, we're very different people after 40. But growing older doesn't...
A great way to stretch your hip flexor will be to complete the following:
Kneeling Hip Flexor – Start off on both knees. Take one leg forward so both legs are bent at 90 degree angle. Next, slightly lean forward and squeeze glute. For added stretch, lift arm of leg in back and slight turn back and away from front leg. Use picture below as reference.
Continue Learning about Types Of Exercise Programs