The best way to maintain aerobic power is to perform 1-2 sessions a week that focus on aerobic power this means a minimum of 20 minutes at 75-90% of max VO2. Training at the high end of the aerobic spectrum even for short periods of time (20 minutes) can help you maintain your current aerobic power levels.
One of best ways to avoid losing aerobic power will be to complete circuit training for some strength training day.
The best setup is to take a variety of exercises, they may be of similar muscle groups, and/or opposing, personally I enjoy a full body variety.
After you have choosen your exercises and have everything setup and ready to go, complete one set after the next with little to no rest.
This will keep your heart rate at a high intensity which will force your body into an aerobic state and help you preserve your aerobic capacity.
Although it appears that no one can entirely prevent at least some decline in oxygen transport with age, the heartening news is that men and women who remain or become active experience a much slower decline compared with sedentary individuals. A study conducted by NASA and the Cooper Clinic in Dallas, for example, found that lean, active adults lost only 7 percent of their aerobic power between the ages of 30 and 70, compared with a 50 percent loss among the sedentary and overweight. Better yet, you'll find that even if your aerobic power has declined more severely than it should have during years of sedentary living, once you adopt an active life at any age, you'll reverse that abnormal decline and your aerobic power will increase, along with your energy and ability to go about the tasks of daily living.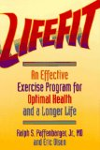 Continue Learning about Types Of Exercise Programs


From walking to engaging in team sports, exercise comes in many forms. Aerobics, stretching, weightlifting and endurance training are some of the types of exercise that produce health benefits and enjoyment. With each type of exer...
cise, proper technique and posture is critical in preventing injuries while achieving maximum health results.
More