Here's how to do the internal and external rotation exercise:
1. For external rotation, place one end of an exercise band around a sturdy object, such as a doorknob, and stand with your left side toward the door. Place the other end of the band in your right hand.

2. Pull the band away from your body with your elbow against your left side. Repeat this ten times. Do two sets.

3. For internal rotation, place the band in your right hand and pull it across your body with your right elbow against your right side. Repeat this ten times. Do two sets.

4. Turn your body so that your right side is toward the door and repeat with the other arms.

5. Keep your elbow close to your side during these exercises.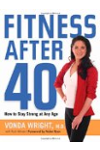 More About this Book
Fitness After 40: How to Stay Strong at Any Age
It's one of the undeniable facts of life. After we reach a certain age, our bodies change. No matter how fit we may have been at 20, we're very different people after 40. But growing older doesn't...
Assuming this is for the glenohumeral joint (shoulder), there are several ways you can do this exercise. One is to use a cable machine with a light weigh selected. Stand to the side and have your elbow bent 90 degress while holding the handle. Placing a half-foam-roll or other object between your waist and elbow will place the scapula in the proper position. Once ready, pull the cable in towards your stomach – rotating only your upper arm. This is internal rotation. To perform external rotation, simply turn around while keeping the handle in the your hand. Then rotate your upper arm the other way. This is external rotation. Perform this for the desired amount of repetitions on each side.
Continue Learning about Types Of Exercise Programs