The wall-slides exercise restores normal biomechanics and strengthens key muscles involved in rotating, elevating, and stabilizing the scapulae (shoulder blades). I've broken it down into a biomechanics phase and a strengthening phase. Begin strengthening only after you have mastered the biomechanics.
For the biomechanics phase:
Stand a few inches from the wall so you can comfortably place your elbows and the pinky sides of your hands on the wall. Slide your hands up the wall, making a V shape. When your elbows are level with your shoulders, gradually shrug your shoulders up to help elevate your scapulae. Visualize your scapulae rotating under your arms as they rise and actually helping your arms slide up the wall. Stop before any pain and hold for 5 breaths. Slide your arms down while continuing to shrug your shoulders up. This activates your upper trapezius muscle that has become lengthened or weak. Your arms should be able to fully slide up the wall with elevated scapulae and be pain free. Perform 3-5 repetitions.
Common errors for the biomechanics phase:
If your elbows rotate out too much, you may experience shoulder pain. Don't allow the creases of your elbows to rotate into the wall. Keep them facing each other and in the line of the V-shape.
If you still experience pain in your shoulders, check to make sure that your shoulders are elevating at the right time. Be sure to stop at or prior to pain.
For the strengthening phase:
Once your arms are fully elevated and pain free, squeeze your scapulae together to lift your hand off the wall by only 1/4 to 1/2 inch. Be sure to use the scapulae to lift your hands off as opposed to your shoulder muscles.
Common errors for the strengthening phase:
Not using the scapulae to lift the hands off the wall will cause shoulder pain. As an alternative, perform as a single arm exercise: Reach behind you with your other hand and feel your scapula muscles engage to lift your arm.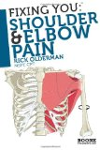 Continue Learning about Types Of Exercise Programs


From walking to engaging in team sports, exercise comes in many forms. Aerobics, stretching, weightlifting and endurance training are some of the types of exercise that produce health benefits and enjoyment. With each type of exer...
cise, proper technique and posture is critical in preventing injuries while achieving maximum health results.
More