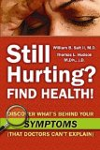 Having a strong mid-section or core supports your back muscles and reduces your risk of injury. Here are two exercises directed to core strength.

Abdominal crunches
Lie on your back with your knees bent and feet flat on the floor. Put your hands lightly to your ears. Crunch up about thirty degrees from the floor by using your abdominal muscles.

Arm and leg lifts
Place both hands and knees on the floor with your arms and thighs parallel to each other and perpendicular to the floor. Make sure that your knees are directly under your hips. Your hands should be under your shoulders. Looking at the floor, keep your head in line with your spine and back straight. Lift one arm and the opposite leg slowly off the floor and extend them straight out so that your leg, back, and arm are roughly in one line. Slowly lower them to the starting position. After one set, switch positions and use the other arm and leg in opposition.