Planning a cross-training routine will depend on what you have access to. Let's use aerobic exercises for example. If you are able to bike, swim, and run then try the following:
Monday – run a 5K
Tuesday – swim 200 meters
Wednesday – off
Thursday – bike 15 miles
Friday – run a 5K
Saturday – off
Sunday – swim 200 meters
All of this will be subject to change depending on weather, etc. Essentially, work 2 days and rest for 1. You may do a 3 day and rest for 1. Options are endless so let me know if I can further assist!
A daily routine might begin with light stretching at the beginning of activity, then five minutes of leisurely walking to warm up, with a gradually increasing pace. Maintain this for 5 or 10 minutes, then move on to something else that works another set of muscles. For example, you might hop onto a bike, if one is handy, and cycle for 10 minutes; or if you have the luxury of a nearby pool, swim laps for 10 minutes or so; or do a series of resistance exercises for 10 minutes. Then follow with 5 or 10 minutes of stretching or leisurely walking. The entire routine can be done in 30 to 40 minutes, and you will have worked all of the major muscle groups and developed all aspects of fitness.
You don't need to do everything at one session, though. If you have the time and inclination, you can break your cross-training routine into pieces throughout the day: stretching in the morning and a brisk walk or resistance training in the evening.
Of course, a daily cross-training routine can require access to the right facilities and equipment. If you have a well-equipped home gym, that's no problem. Joining a gym that has a variety of stationary bikes, stair climbers, rowing machines, weights, and the like is a viable option. But you don't really need lots of "stuff" to cross-train at home -- just your feet, perhaps a bike, and a set of weights will do.
A cross-training routine planned across a week is probably more realistic for most of us, especially if you don't have the equipment or facilities close at hand to make a daily routine possible. Over a week, a typical cross-training routine might include walking or jogging on Monday, cycling or weight training on Wednesday, and swimming on Friday, with leisurely walking on the "off" days or on weekends. Each exercise session would begin and end with some gentle stretching, of course, and a brief period of leisurely walking for a cool-down. And of course, don't forget that hour a day of simply "puttering about," being up on your feet and moving.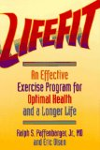 Continue Learning about Types Of Exercise Programs


From walking to engaging in team sports, exercise comes in many forms. Aerobics, stretching, weightlifting and endurance training are some of the types of exercise that produce health benefits and enjoyment. With each type of exer...
cise, proper technique and posture is critical in preventing injuries while achieving maximum health results.
More