The best exercise to correct forward head posture is to perform chin tucks or cervical retraction exercise. To perform this exercise follow the steps below:
Preparation
1. Being by sitting with your back flat against a wall.
2. Place a pad, or towel behind the head.

Movement
3. Draw the navel inward to stabilize the spine.
4. Relax the shoulders.
5. Slowly push the head straight backward in to the towel or pad.
6. Hold the position for 5 seconds and relax.
7. Repeat movement for 3 sets of 8 repetitions. Perform the exercise daily.
Correcting a forward head is trickier than you might think. Most people bring the head into further extension when trying to correct their heads' position. Instead, visualize gently lengthening the back of the head to correct it. An easy way to do this is to place your finger at the base of your skull in the back and help it lengthen toward the ceiling. You might notice that your chin nods slightly to your chest to achieve this -- perfect! The axis of the nod should be at the base of your skull instead of further down the neck. You are activating the deeper muscles in the front of your neck (neck flexors), which are most likely weak or long. Keep your focus on elongating the muscles at the base of the skull instead of nodding the chin, as the latter can result in improper movements of the neck. Be gentle! You've had years to develop your forward head; it won't be fixed in a day.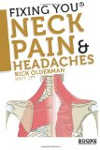 Continue Learning about Types Of Exercise Programs


From walking to engaging in team sports, exercise comes in many forms. Aerobics, stretching, weightlifting and endurance training are some of the types of exercise that produce health benefits and enjoyment. With each type of exer...
cise, proper technique and posture is critical in preventing injuries while achieving maximum health results.
More