Neck flexion is done in the standing position and with movement of bringing the chin to the chest. This exercise can be made more difficult by performing while lying on your back and using gravity as resistance. To make the exercise more difficult try performing the movement against some type of resistance.
To begin forward neck flexion, let your head come slowly and gently downward with your chin tucking slightly in toward your chest. You should feel as though gravity is easing your head downward, not like you are forcing it forward. Go as far as you comfortably can, and when you feel tightness or pulling in the back of your neck or upper back, stop and hold that position for three to five seconds, and then slowly come back to the neutral position. Complete five to seven of these gentle repetitions, each time trying to notice a slight increase in the overall movement. In very rare instances of severe spinal cord impingement, this exercise may cause a numbing or tingling sensation in the arms or hands.
If this occurs, discontinue the exercise and consult a physician.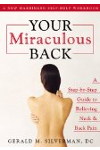 Continue Learning about Types Of Exercise Programs


From walking to engaging in team sports, exercise comes in many forms. Aerobics, stretching, weightlifting and endurance training are some of the types of exercise that produce health benefits and enjoyment. With each type of exer...
cise, proper technique and posture is critical in preventing injuries while achieving maximum health results.
More