The all-fours rocking stretch exercise passively restores normal shoulder-joint mechanics. It is a deceptively simple yet powerful exercise that yields big results.

Begin in a hands-and-knees position with your hands under your shoulders and knees under your hips. Be sure your lower back is flat by drawing your belly button in toward your spine. Exhale and rock back onto your feet. Feel that the floor is pulling your arms into an overhead position. Allow your shoulders to be pulled into elevation while rocking backward. Essentially the shoulders will shrug up to your ears. Visualize that your scapulae (shoulder blades) are rotating out without sliding out too far from the spine. Be sure the back of your neck, especially at the base of the skull, remains lengthened. Feel a nice stretch through your scapula or armpit area. Return to starting position after holding at the bottom for 5 breaths. Perform 3-5 repetitions.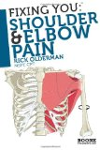 Continue Learning about Types Of Exercise Programs


From walking to engaging in team sports, exercise comes in many forms. Aerobics, stretching, weightlifting and endurance training are some of the types of exercise that produce health benefits and enjoyment. With each type of exer...
cise, proper technique and posture is critical in preventing injuries while achieving maximum health results.
More