Cross-training is balanced training. As we get older, it becomes increasingly important to strive for balance in everything we do, literally and figuratively. As the risk of injury increases with age, and the time it takes to recover lengthens, our activity programs need to be designed around the goal of staying active and avoiding anything that can keep us from that goal. Thus a well-rounded active life will balance exertion with rest, light activities with more intense activities, and a probing of limits with sensible training. Above all, a well-rounded active life incorporates a balance of various activities that together develop and maintain all the components of health and fitness. These include:
Endurance through aerobic activities such as walking, jogging, swimming, and so on for improved general health;
Strength through resistance training for improved functioning and independence and a reduced risk of injury or falls;
Flexibility through stretching for improved functioning and independence and a reduced risk of injury due to stiff muscles;
Balance through any activities that have us up on our feet for improved functioning and reduced risk of injury, particularly falls.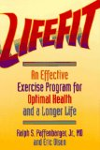 Cross-training is beneficial because it reduces exercise boredom, decreases risk of injury, allows flexibility with training needs and program plans, produces a higher level of all around conditioning, conditions the entire body, and works different muscles while others rest and recover. In addition, cross-training helps to improve skill, agility, and balance.
Continue Learning about Types Of Exercise Programs


From walking to engaging in team sports, exercise comes in many forms. Aerobics, stretching, weightlifting and endurance training are some of the types of exercise that produce health benefits and enjoyment. With each type of exer...
cise, proper technique and posture is critical in preventing injuries while achieving maximum health results.
More