As we age our balance decreases. In addition, our bone density will also decrease. These are two big components of our daily living we need to focus on keeping strong. With decreased bone density will lead to fragile bones. Falling with frail bones may lead to broken bones. Without balance, a fall is much more likely to occur. Broken bones can be detrimental to individuals, especially those over the age of 80. Increase both your balance training and strength training to prevent issues such as these happening to you and be sure to share this information with loved ones.
Balance and proprioception can be retrained. This is important, since poor balance not only leads to falls but may lead to increased injury.
The good news is that the neuromuscular connections can be entirely reclaimed by specific daily attention. Falls can be prevented. A large analysis of balance studies found that muscle strengthening and balance retraining programs can decrease the risk of falls by 45 percent. In addition, studies show that people who practice the noncompetitive martial art of tai chi (which emphasizes gentle movements and stretching) have a significantly better sense of joint position and better reaction times than people of the same age who did not practice such balance-intense activities.
Aging golfers show the same retention of balance-sense and reaction time as practitioners of tai chi. This makes sense since a good golf swing requires not only good balance, with precise control of the head and body in relationship to the legs, but coordinated muscle activity throughout the swing. Overall fitness and lower extremity muscle strength are important determinants of remaining balanced. Just like any component of fitness, "if you don't use it, you lose it," and n terms of equilibrium, you can be older than your years.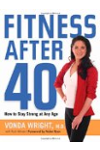 More About this Book
Fitness After 40: How to Stay Strong at Any Age
It's one of the undeniable facts of life. After we reach a certain age, our bodies change. No matter how fit we may have been at 20, we're very different people after 40. But growing older doesn't...
Continue Learning about Types Of Exercise Programs


From walking to engaging in team sports, exercise comes in many forms. Aerobics, stretching, weightlifting and endurance training are some of the types of exercise that produce health benefits and enjoyment. With each type of exer...
cise, proper technique and posture is critical in preventing injuries while achieving maximum health results.
More