After beginning a new exercise program, many people feel the need to eat something immediately after working out. When that something is a half dozen donuts or a bag of chocolate chip cookies, it's hard to see how exercising will help you lose weight. Actually, this after-exercise craving is usually not a desire for food, but a craving for water replenishment. Next time, drink eight to twelve ounces of water at the end of an exercise session, and you'll probably curb that urge to eat more calories than you burned.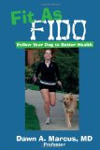 More About this Book
Fit As Fido: Follow Your Dog to Better Health
Let your dog teach you to live a happier, healthier, and more fulfilling life! Companionship with your pet can be used as a means and a motivator to increase your own physical and mental fitness....
When we exercise, we exert ourselves and are bodies are burning fuel. Be sure to keep yourself hydrated before and after exercise. Completing this will help prevent the feelings of hunger. However, our bodies do need to be refueled so try to eat within a half hour of strength training to help your body rebuild the muscles you have just worked.
Continue Learning about Types Of Exercise