According to our bodies' cycles, adrenal hormones are highest in the morning, then slowly decrease to their lowest point, which is when we're ready for bed. What happens when we exercise late in the day? We throw off the cycle, as exercise stimulates the adrenal gland. You end up with a burst of energy into the night, resulting in insomnia. Exercising at night (as well as eating too late in the evening) raises your heart rate and body temperature, which makes it difficult to fall asleep. I recommend that you finish your exercising before 4:00 p.m. if at all possible.

Exercising early doesn't always fit into your schedule. And people who are more night owls than early birds many find it difficult to get going in the morning and would rather have more sleep time. I have several patients who find it much easier to exercise right after work when they are already out and about. If that's what works best for you, then I say go for it. Just be sure to find ways to calm yourself down before bedtime -- do some inspirational reading, listen to soothing music, do a few yoga stretches -- that will allow your body to fall asleep.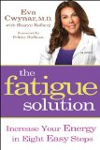 There actually is a better time to exercise based on our circadian rhythms, and it tends to be late afternoon. So if you're doing strength training and you want to maximize your efforts, you're better off doing it in the late afternoon. There is a lot of data that has to do with our circadian rhythm and body temperature, which correlates with the efficiency of strength and power improvements.
Strive for 150 minutes of exercise every week. The time of day you exercise is your choice. Make sure your exercise schedule remains consistent. Some people exercise first thing in the morning because they have a hectic work schedule. Other choose to exercise at night as a form of stress relief. Devise a plan and stick to it. Make exercise a daily habit and you'll reap the benefits.
Research is showing us that even though any time is a good time to exercise, we probably get the best benefits by going out in the early morning, before we eat.

An Australian study of 28 men showed that those who exercised before eating breakfast had no weight gain compared to those who ate before exercise.
Continue Learning about Types Of Exercise