Soreness from exercise, often called Delayed Onset Muscle Soreness or DOMS, occurs when the body is unaccustomed to an activity or exercise. If you experience muscle soreness, rest the affected muscles to allow them to heal and remodel. Very light stretching will also be beneficial in reducing muscle soreness. That said, the best way to minimize DOMS is to progress gradually and begin with low-intensity exercise before engaging in hard, intense training.
Relax and don't worry. The discomfort will go away. Rest is appropriate, of course. To speed the recovery process or ease the discomfort, gentle massage and heat will help, as will an over-the-counter analgesic such as aspirin or a nonaspirin substitute.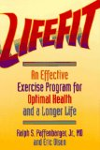 Continue Learning about Types Of Exercise


Exercise provides many health benefits - from fitness to increased physical and mental energy. In order to prepare yourself for a exercise routine, you need to research which exercise is right for you and how to fit a new exercise ...
e program into your daily schedule.
More