Discover the exercise that matches the rhythms of your day and the needs of your body. Be sure to breathe deeply as you move your muscles; oddly, many of us develop the habit of holding our breath as we lift a weight or swing a racket, depriving our muscles of much-needed oxygen.

Weave exercise into the fabric of your day: Make a commitment to stretch whenever you get up from your desk, to choose the outer edges of every parking lot, to spend 10 minutes before bedtime practicing yoga. Find exercise that is fun for you: dancing, backpacking, even swinging on the swing set in your neighborhood park.

Don't let injuries or illnesses make you "give up" on exercise. Everyone can do some form of movement sitting in a chair, or even lying in bed. Simply breathing deeply and tensing and relaxing muscles can be immensely restorative. Turn on some music and move your body in whatever way feels comfortable. Start slowly and build up the amount of time you devote to movement each day.

Focus on pleasure, not pain. Exercise should feel good. If you don't look forward to your daily exercise, it's time to reexamine your choices. Release the idea that exercise has to be extremely vigorous, take an hour or more, and make you suffer. Studies show that three 10-minute increments of exercise spread throughout your day have the same health-giving benefits as one 30-minute session.

Exercise videos are a great way to sample a new discipline before you commit to taking a class. Some videos are broken down into short 10- or 20-minute segments to give you a quick lift when you're feeling out of balance. If you try something and you aren't enjoying it, try something else. Sample the wide variety of fun routines available and find the ones that restore and renew you. There are videos that give you instructions on how to exercise or do yoga in your bed, a chair, or an airplane seat. When you find something that clicks for you, you'll know it.

Make your choice: Walk, swim, go to the gym, practice Pilates, yoga, tai chi, or Qigong. Move your body and bring a deeper, more satisfying balance to the rhythm of your days.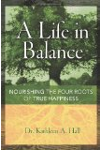 Before starting an exercise program it is important to talk to your doctor to get an idea which forms of exercise are best for you. Generally speaking strive for a minimum of 150 of physical activity every week. Some forms of exercise include walking, jogging, cycling and strength training. You will want to listen to your body during exercise. If you feel faint, dizzy, and nauseas stop exercising immediately. Lastly, during all exercise it is important to maintain ideal posture. Some common postures to avoid include arching your lower back, caving your knees inward, and jutting your head forward.
Continue Learning about Types Of Exercise