Exercise helps increase the body's sensitivity to insulin. This in turn lowers blood sugar levels and decreases insulin production. Active people, even if they have a genetic predisposition to the disease, are much less likely (by 30 to 70 percent in three studies) to develop adult-onset diabetes (type II diabetes). Furthermore, if symptoms do occur, exercise helps diminish their aging effect. Just thirty minutes of walking a day decreases the aging of type II diabetes by almost 30 percent. If you combine tight control of blood pressure, tight control of blood sugar levels, and thirty minutes of walking a day, you decrease the aging of a chronic disease (such as type II diabetes) from 1.46 years older to only 1.06 years older for every year you have the disease. In addition, if you do other healthful things, you can actually age less than one year for every year you have the disease, even if it's type II diabetes.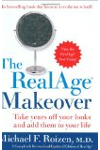 Here are some ideas for outdoor exercise:
Walking—The cheapest and simplest way to exercise is putting one foot in front of the other. All you need is a pair of sturdy, well-fitted shoes.
Gardening—Pull some weeds or plant some flowers.
Hiking—You don't need to climb Mount Everest to enjoy the benefit of walking in the woods. Don't forget to bring a snack and wear layers.
Frisbee—Who knew throwing around a disk could be so much fun (and so cheap!)?
Swimming—You don't need to do the 100-meter butterfly to enjoy the benefits of swimming. Even treading water or kicking your feet along the side of the pool will give you a good workout.
Boating—Canoeing or kayaking in your community or on your next vacation is a great way to see the sights from another angle.
Playing—Take your kids or grandkids to the park. Climb on the ladders or swing across the monkey bars with them. Play tag or hide-and-seek.
Be sure to drink plenty of water before, during and after your activity. If you take insulin or a medication that can cause hypoglycemia, check your blood glucose levels before and after your activity, and periodically during exercise if it will last longer than an hour. If you are exercising for more than 30 minutes, supply yourself with a snack to keep blood glucose levels in check.
If you have diabetes, first talk to your doctor before beginning an exercise program. There are many exercises you can perform outside such as walking, hiking, cycling or Tai Chi. When performing any of these activities, proper foot care is extremely important especially if you have lost sensation in your feet (peripheral neuropathy). Start slow and gradually progress the duration of your exercise routine striving, for 150 minutes of activity per week.
When training outdoors you should avoid exercising in extreme heat or for extended periods of time. Exercising in these conditions may bring about hypoglycemia, which can cause mild symptoms such as nausea, cold, clamminess or increased heart rate to severe symptoms such as seizures, convulsions or loss of consciousness. Increase safety by measuring blood sugar levels before and during exercise. You can also have candy or a drink on hand for a quick source of glucose.
People with diabetes must make sure to keep their blood sugar levels stable before, during and after exercise. Diabetes can also increase the risk of developing neuropathy or lack of nerve function and blocked blood flow of the extremities, so it's important to make sure the blood flow and nerve function of your feet, legs, hands, and arms function properly, otherwise you may increase your risk of injury while exercising. Get a regular physical to keep an eye on your body and stay active which decreases the symptoms of diabetes.
Continue Learning about Types Of Exercise


Exercise provides many health benefits - from fitness to increased physical and mental energy. In order to prepare yourself for a exercise routine, you need to research which exercise is right for you and how to fit a new exercise ...
e program into your daily schedule.
More