The prone-arm waves exercise is designed to promote scapular stabilization. By internally and externally rotating the humerus with the arm abducted and elbow flexed to 90 degrees, the muscles of the rotator cuff are strengthened. This exercise is VERY often used with shoulder rehabilitation patients, but also by upper extremity athletes such as volleyball and baseball players, as well as swimmers. With these athletes, performing this and other scapular stabilization exercises maintains balance between the opposing muscle groups, and prevents overuse injuries.
The Prone Arm Waves exercise strengthens the rotator cuff (shoulder muscles running from the scapula to the arm bone) and helps set the humerus (upper arm bone) correctly in the shoulder socket. It's ideal for correcting an anterior gliding humeral head. Of all the exercises, this is the one that's most difficult for people to feel because many are unaware of how their scapulae (shoulder blades) are moving. It's best to have someone check this out initially until you can dial it in.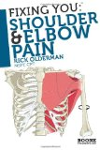 Continue Learning about Types Of Exercise


Exercise provides many health benefits - from fitness to increased physical and mental energy. In order to prepare yourself for a exercise routine, you need to research which exercise is right for you and how to fit a new exercise ...
e program into your daily schedule.
More