Fartlek training is a form of interval cardiovascular training. Fartlek means "speed play" in Swedish. This form of interval training is unstructured and is based on how your body feels. Fartlek can improve overall cardiovascular endurance and make exercise more fun. Instead of going for a simple jog, Fartlek would be a hard run followed by a light jog. Once the body recovers, you can try increasing the intensity again.
The beauty about Fartlek is that it can be done on most exercise devices such as elliptical, treadmills, stair climbers, or bicycles and can be done in most environments like in a gym, on a track, on hills or trails and along the street.
Fartlek is great because it can be adapted and adjusted to the physical needs of the client. Fartlek is also beneficial because it develops anaerobic and aerobic energy systems, which is often used for sports like Soccer, football, and basketball.
A fun way to improve your fitness is to do fartlek runs. Fartlek is a Swedish word that means "speed play." This method of increasing your workout intensity alternates running at an easy pace with running at your maximum heart rate. Fartleks allow you to work out without getting tired because as soon as you reach the upper limit of your MaxHR, you immediately slow down to walk or jog until your heart rate recovers. An example of a fartlek would be starting with a one-mile jog at 60 -- 70 percent effort. When you reach this point, you pick up your speed and run faster or even sprint until your heart reaches 85 percent of your MaxHR, and then you immediately slow down again until your heart rate returns to 60 -- 70 percent. You then speed up again. You keep alternating slow/fast for a set period of time (20 or 30 minutes, for example) and increase the intensity of the workout by increasing the duration. This is a great way to work from walking to running.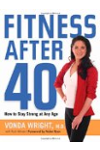 More About this Book
Fitness After 40: How to Stay Strong at Any Age
It's one of the undeniable facts of life. After we reach a certain age, our bodies change. No matter how fit we may have been at 20, we're very different people after 40. But growing older doesn't...
Continue Learning about Types Of Exercise


Exercise provides many health benefits - from fitness to increased physical and mental energy. In order to prepare yourself for a exercise routine, you need to research which exercise is right for you and how to fit a new exercise ...
e program into your daily schedule.
More