To perform the hand-on-head exercise, place your hand on top of your head and shrug your shoulder. Let the weight of your arm rest on your head. Relax your arm while maintaining your shrugged shoulder. Keep your head in a neutral position, with
the head tucked in, and in line with the shoulders.




The hand-on-head exercise activates the upper trapezius (a large muscle group of the shoulder, neck and upper back), elevates the shoulder blade, and helps teach you to use your shoulder blade when reaching up with your arm. You can do it almost anywhere.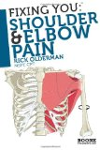 Continue Learning about Types Of Exercise


Exercise provides many health benefits - from fitness to increased physical and mental energy. In order to prepare yourself for a exercise routine, you need to research which exercise is right for you and how to fit a new exercise ...
e program into your daily schedule.
More