Muscle fatigue during exercise is not necessarily a bad thing. Exercise is a form of stress that we place on our bodies and temporary muscular fatigue is a result of this stress. With that said, whenever performing exercise it is extremely important to maintain ideal posture and exercise technique. Stop any exercise when your muscles fatigue to the point in which your posture suffers and you can no longer perform the exercise correctly. Once you're recovered, resume the exercise. As time goes by your body will adapt and become stronger and resistant to fatigue.
Muscle fatigue may be uncomfortable, but it doesn't mean that what we're doing is hurting us -- in fact, that feeling of fatigue when we exercise lets us know that we are getting stronger. Muscle fatigue also indicates that your body has had enough for the time being. Listen to your body. Stop when you need to. Don't try to push through another set of repetitions or add more weight until your body is ready. Avoiding the message your body is sending doesn't do you any favors and ultimately slows down your progress because ignoring good pain establishes compensatory behavior that can contribute to bad pain.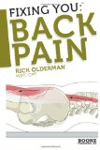 Continue Learning about Types Of Exercise


Exercise provides many health benefits - from fitness to increased physical and mental energy. In order to prepare yourself for a exercise routine, you need to research which exercise is right for you and how to fit a new exercise ...
e program into your daily schedule.
More