Try to have water with you at all times, particularly when you are exercising, to stay hydrated. Try to have water in a place that won't force you to take constant brakes and interrupt the flow of your exercise.

Hydration is vital before, during and after intense exercising, especially running or cycling or other activity in warm weather or for routines that are longer in duration than the norm.

Drinking liquids early, at least one hour before exercising, is important. For long and intense workouts, take in about 5 to 8 oz. every 15 to 20 minutes. This gives your body a chance to absorb a constant flow of liquid.

You can use sports drinks that help replace electrolytes, especially when exercising for more than 1 hour.

Drinking after exercise helps compensate for the fluid your body loses during exercise.

Intense exercise often causes excessive sweating, for this reason it is important to hydrate prior to heading to a workout. Make sure you drink 12-16 ounces of water 2 hours prior to exercise. Continue to drink water throughout your workout, even if you don't feel thirsty. And drink another 12-16 ounces of water after your workout.
Hydration recommendations depend on the individual and the exercise activity performed. Generally, the main goal is to achieve proper hydration. Prevention of hypohydration (insufficient amount of body water) and heat illness are important goals for all. The following are general guidelines for individuals involved in intense exercise:
Drink about 2 cups of fluid about two to three hours before exercise
Drink about 1 cup of fluid every 15 to 20 minutes during intense exercise.
Drink about 3 cups of fluid for every pound lost after exercise.
Usually, fluids are better tolerated if they are cool, flavored, and are taken in smaller volumes, more frequently; however, individual tolerances and preferences are the most important factors. Carbohydrates or electrolytes such as sodium should be included in beverages if the individual engages in exercise that lasts one hour or more. If activity is less than one hour, then it is okay to only have water.
The following recommendations on hydration and fluid intake are from the American College of Sports Medicine.

• Eat and drink a balanced and adequate diet in the 24 hours prior to an event, including the meal prior to exercise.

• Drink 17 ounces (one standard bottle of water) within the two hours prior to exercise to provide adequate hydration and give you time to urinate the excess (nothing kills a workout -- or worse, a race -- than having to stop to use the bathroom).

• During a race, you should begin drinking early and continue to prevent dehydration. It is easier to stay on top of it than try to catch up.

• Fluids should be cooler than the air outside (55 -- 72° Fahrenheit), but not ice cold or flavored, so they go down more easily.

• When exercising or in an event longer than an hour, your hydration should include carb and electrolyte replacement. If you are exercising less than an hour, you do not need to replace carbs and electrolytes. Water is fine.

• During intense exercise lasting longer than an hour, your body needs 30 -- 60 grams of carbs per hour. This is equal to one of those glucose packs. More practically, this can be achieved by drinking 600 -- 1200 ml per hour (1 1?2 to 2 1?2 bottles) of a 4 -- 8 percent carb drink.

• The replacement fluid should contain 0.5 -- 0.7 grams per liter of sodium to promote fluid retention and prevent excess loss of sodium from excess fluid intake.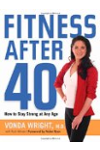 More About this Book
Fitness After 40: How to Stay Strong at Any Age
It's one of the undeniable facts of life. After we reach a certain age, our bodies change. No matter how fit we may have been at 20, we're very different people after 40. But growing older doesn't...
Continue Learning about Types Of Exercise


Exercise provides many health benefits - from fitness to increased physical and mental energy. In order to prepare yourself for a exercise routine, you need to research which exercise is right for you and how to fit a new exercise ...
e program into your daily schedule.
More