Exercise has been proven to reduce and reverse many health problems. Only in rare occasions is exercise completely contraindicated. You must ask this question to your treating physician. Only your physician can tell you if exercise is allowed given your health condition.
Whether it's a cold or an allergy attack, being sick can interrupt your exercise schedule and make you feel flabby as well as sniffly. But is it safe to exercise when you're sick, or should you force yourself to rest?
The short answer is, sometimes exercise is good when you're sick, and other times it's not. Here's the rule of thumb you should use:
Proceed with your workout if your signs and symptoms are "above the neck" — such as runny nose, nasal congestion, sneezing or sore throat. Be prepared to reduce the intensity of your workout if needed, however.
Postpone your workout if your signs and symptoms are "below the neck" — such as chest congestion, hacking cough or upset stomach. Likewise, don't exercise if you have a fever, fatigue or widespread muscle aches.
Our bodies are pretty good at letting us know what they like and don't like, so pay attention to what yours is saying. If you have a fever or feel feverish, you need rest -- not exercise. Once your fever breaks, try starting off with light exercise first, letting your body become accustomed to movement again.
Giving yourself a reasonable dose of light or moderate exercise when you're sick can actually help speed recovery from a cold or allergies by stimulating circulation and clearing the sinuses. Next time you're under the weather, try it!
If you have a health problem, you should incorporate physical activity into your life (although you'll want to do so under the guidance of your physician). In fact, if you have a health problem, you should especially start an activity program, because you stand to benefit the most. For those at higher risk of cardiovascular disease and other chronic illnesses, exercise makes their RealAge (physiologic age) disproportionately younger. The biggest benefit occurs if you start exercising before a major health problem, or, as I like to think of it, an aging event. However, it's never too late to start.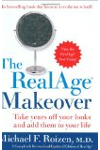 Continue Learning about Types Of Exercise


Exercise provides many health benefits - from fitness to increased physical and mental energy. In order to prepare yourself for a exercise routine, you need to research which exercise is right for you and how to fit a new exercise ...
e program into your daily schedule.
More