It helps to vary your exercise routine. It's easy to get bored with an exercise plan if you keep doing the same thing day after day, so remember that all types of physical activity can help improve your mood. Check out the classes in your local community center or community college for ideas about new ways to get physical activity, and during your regular routines look for new ways to increase your physical activity, such as walking instead of driving to lunch, or aking the stairs instead of the elevator.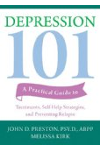 Continue Learning about Types Of Exercise


Exercise provides many health benefits - from fitness to increased physical and mental energy. In order to prepare yourself for a exercise routine, you need to research which exercise is right for you and how to fit a new exercise ...
e program into your daily schedule.
More