It is important to perform physical activity on a daily basis to keep muscle and joints flexible. Create a schedule and stick to it. Every day you should set aside time for your back exercises. For example perform your back exercises first thing in the morning before hopping in the shower. Put a post-it note on the shower door to remind you. After a few weeks this routine will become habit and you'll no longer have to think about it.
With the demands of our busy days, it can be difficult to stay focused on our goals to reduce back pain. That is why I recommend you set up a way to remind yourself of your new goals and to check in on your habits. Wear a special bracelet, ring, string, or rubber band around your wrist to remind you of the changes you are evoking in your mind and body. Place stickers on the dashboard of your car, the clock, your watch, your telephone -- anything you use or look at frequently -- to remind yourself that you are getting better every day by correcting those habits that feed your pain.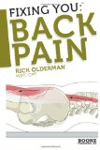 Continue Learning about Types Of Exercise


Exercise provides many health benefits - from fitness to increased physical and mental energy. In order to prepare yourself for a exercise routine, you need to research which exercise is right for you and how to fit a new exercise ...
e program into your daily schedule.
More