To perform the prone-arm waves exercise, lie on your stomach with a pillow supporting your left shoulder joint and arm. Be sure your shoulder is not "dropping" down to the table but is instead supported and in line with the scapula (shoulder blade).

Your lower arm should hang off the edge of the table or rest on towels or pillows to maintain good alignment with the shoulder. Place your right hand under your left shoulder joint to monitor whether the humeral head (upper arm bone head) is pressing into your hand when performing the exercise. Rotate your left hand up into external rotation without moving the scapula and without allowing the humeral head to push down into your monitoring hand. Don't lift your arm off the pillows but instead maintain constant, steady pressure. Stop if the shoulder presses down into your monitoring hand. Hold for 5 breaths. Slowly return to the starting position, and repeat in the opposite direction. Again, stop if the shoulder presses down into your monitoring hand. Perform 3 - 5 repetitions.

When performing this exercise in the opposite direction (internal rotation) it will be more difficult to prevent the shoulder from pressing down into your monitoring hand. Be patient and visualize the muscles in the back of your shoulder pulling it up into the shoulder socket to prevent the anterior glide (arm bone sitting too far forward). Also be sure not to allow your arm to rise up off the towels or table while moving into internal rotation.

You may be unable to move your arm without moving your scapula. Be sure you have enough padding under your arm so that the arm bone is in line with your scapula. Begin with small movements, and stop if your scapula moves. Gradually build from there.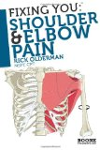 The arm-waves exercise for external rotation is usually not difficult for most people. While lying face down on a massage table, place a pillow on the shoulder joint of the arm you will be stretching, in this case, the left. Next, be sure to have your lower left arm hanging from the edge of the table and keep the arm at 90 degrees away from the body. Slowly turn your left hand backward so that your thumb is pointing behind you until you feel a barrier of resistance. Don't let your shoulder joint press into the table and do not allow your shoulder blade to move. Hold the stretch for up to 30 seconds or as can be tolerated. Repeat this stretch up to five times. Stop if you feel
pain. Start with small movements and progress from there.
Continue Learning about Types Of Exercise