To perform the hand-on-head exercise, simply place your hand on top of your head by shrugging your shoulder a little. Relax your arm while maintaining your shrugged shoulder. Be sure your head is in good alignment, not moving forward or cocked to the side. Let the weight of your arm rest on your head.

If you feel pain in your shoulder, try rotating your elbow forward. If this still hurts, then perhaps you don't have adequate range of motion yet.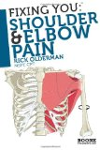 Continue Learning about Types Of Exercise


Exercise provides many health benefits - from fitness to increased physical and mental energy. In order to prepare yourself for a exercise routine, you need to research which exercise is right for you and how to fit a new exercise ...
e program into your daily schedule.
More